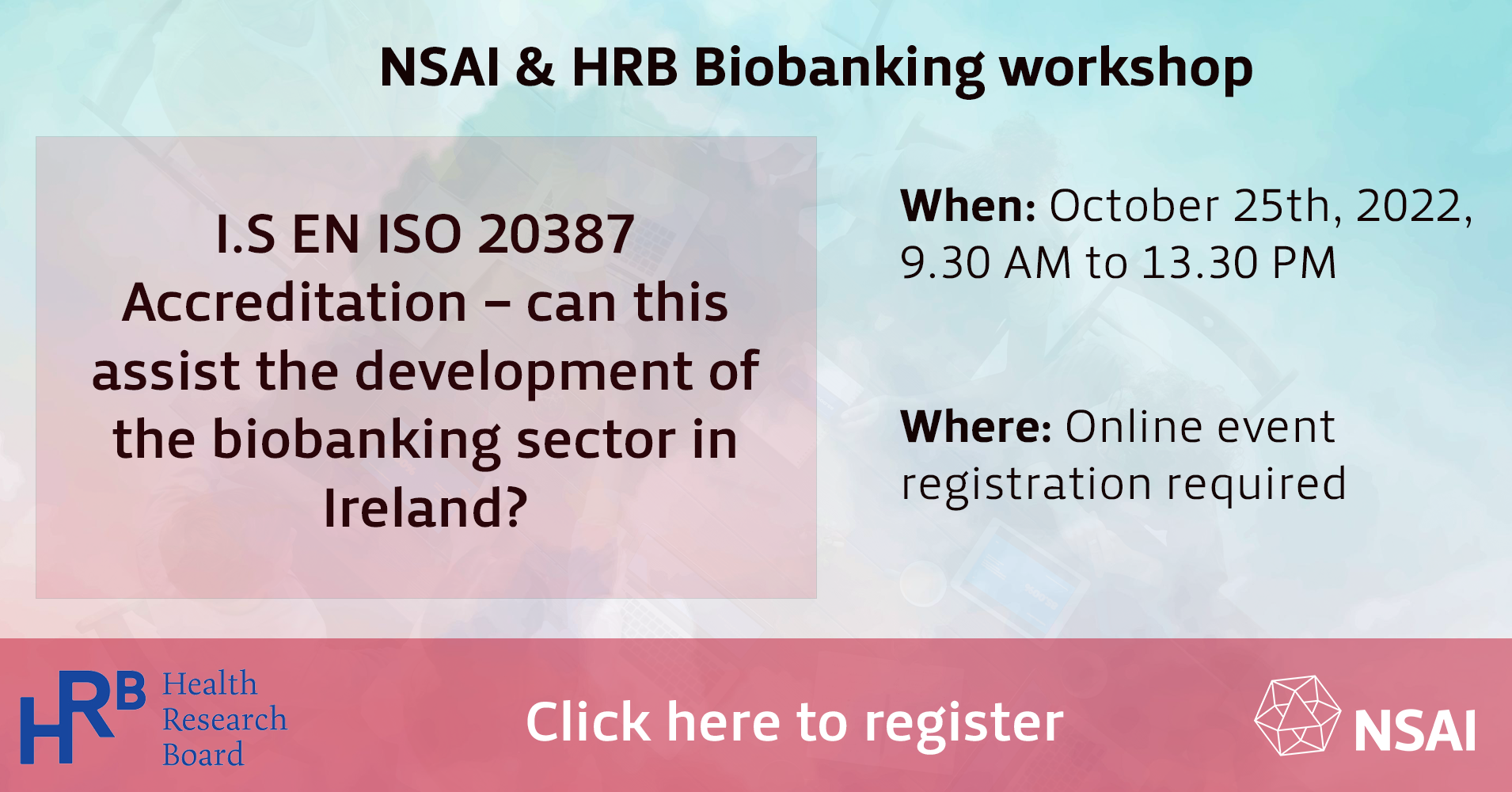 If you missed this webinar you can download the presentations from all speakers involved below
_____
The National Standards Authority of Ireland and The Health Research board are hosting a joint online workshop titled:
I.S EN ISO 20387 and accreditation - can it assist the development of the biobanking sector in Ireland.
This workshop will take place:
October 25th from 9:30-13:30.
About this workshop
This workshop will primarily focus on I.S. EN ISO 20387:2020 – Biobanking – General requirements for biobanking, providing an overview and looking at implementation planning. The implementation guide ISO TR 22758 will also be included as it provides guidance on applying the standard.
Interesting biobanking case studies from organizations who have applied the standard or are planning to, will provide attendees with key insights and lessons learned from those who are using standards to improve their biobanking processes. The importance of quality excellence in biobanking process will additionally be highlighted from a patient perspective.
The workshop will also look at ISO TR 22758 Biotechnology – Biobanking – Implementation guide for ISO 20387.
You can see the full agenda for the workshop below
Who should attend:
This is a multidisciplinary biobanking event and we are inviting everyone who is involved in the establishment and running of biobanks, such as:
Biobanking experts who maintain equipment and samples
Researchers who use and require the safe storage of biological samples where the integrity and quality of samples is critical
Funding organizations that support the running of biobanking organizations.
Anyone who is either involved or interested in biobanking excellence and sample quality.
All biobanking experts are welcome.
Keynote Speakers:
Dr Angieszka Matera Witkiewicz, Biobank Manager, Wroclaw Medical University
Dr Suzanne Bracken, National Irish COVID-19 Biobank Coordinator, Trinity College Dublin