Introduction
The Advanced Manufacturing Technologies Committee is dedicated to standards in new and emerging technologies in manufacturing. It is made up of Subcommittees that are National Mirror Committees to the ISO and CEN committees developing standards in the area.
As new technologies in manufacturing emerge standards subcommittees will be there to standardize the area. The members of the subcommittees represent industry, academia and Government.
Our Vision and Mission
Working together as 'Ireland Inc' we can influence the development of International Standards in new and emerging advanced manufacturing technologies.
Standards we are Responsible For
The Advanced Manufacturing Technologies Committee follows a number of International and European Standards committees. In the Learn More section at the bottom of this page click on each subcommittee for more detailed information.
Sectoral Study of Standards in Manufacturing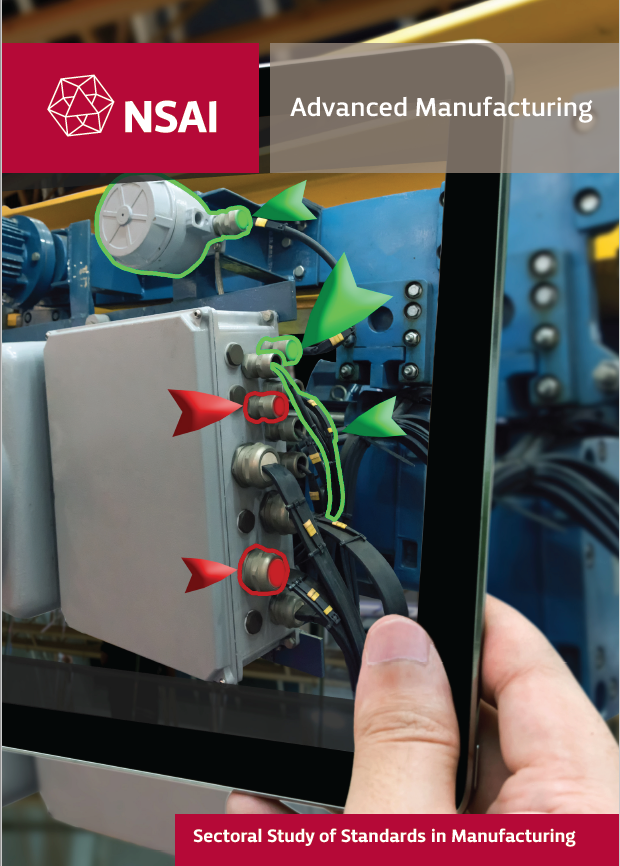 On the 16th of December 2019 the Department of Enterprise, Trade and Employment published Ireland's Industry 4.0 Strategy 2020-2025. This Industry 4.0 strategy is a key output of Future Jobs Ireland, the government's new economic pathway to ensure that Ireland is well placed to prosper in a rapidly changing global economy.
The National Standards Authority of Ireland contributed to Ireland's Industry 4.0 Strategy that is supporting the digital transformation of the manufacturing sector and its supply chain. This strategy sets out a clear vision and goals for Industry 4.0 in Ireland and the strategic actions that will help to achieve this.
NSAI is supporting these strategic actions by raising awareness and understanding amongst manufacturing firms and their supply chains of the concept of Industry 4.0, the potential business benefits and opportunities to be derived from engaging in Industry 4.0 activities.
All these areas and more are addressed through its published Sectoral Study of Standards in Manufacturing which links standards as one of the key drivers for this innovation, making yesterday's impossibilities tomorrow's reality.
Our Latest News
updated [20221207]
Industry 4.0 covers the whole value chain and life cycle of a product, from concept to production, as well as eventual retirement and recycling. Discover how IEC standards ensure safety, security, and interoperability in smart factories: International standards and conformity assessment for smart manufacturing | IEC
updated [20220914]
CEN-CENELEC Workshop Agreement (CWA) Zero defect in digital manufacturing technology is open for public consultation. Zero defect manufacturing is almost exactly what it sounds like – ensuring manufacturing processes are performed with no defects or errors. This has a few obvious advantages: costs are reduced, less material is wasted and the time to manufacture a finished product is reduced. This all leads to greater production efficiency.
This is your chance to review and influence this workshop agreement. All interested parties are now invited to submit comments on the draft CWA to the Workshop secretary, Mr Yusuf Yilmaz, by 14 October 2022.
For the CWA document, commenting template and further information, see Draft CWA public consultation
updated [20211108]
This document, Introduction to NSAI/TC 49/SC 2 & standardization for Additive Manufacturing, is aimed at assisting companies to embrace Additive Manufacturing as part of their Industry 4.0 transformation. The document provides an overview of the standardization landscape, as well as highlighting the potential benefits for both Climate Action and for the industry. In order to showcase the importance of standards for innovation a case study is employed, whereby the use of standards in the collaboration between the Irish Manufacturing Research and the Atlantic Prosthetic and Orthotic Services is outlined.
updated [20210908]
The following Article from IEC gives a better understanding of the IEC 62443 series, which can potentially mitigate the affects and often prevent successful cyber-attacks, as IT standards may not be appropriate for OT( operational technology) environments: Understanding IEC 62443
Throughout 2019 and 2020 our National Mirror Committee to ISO/TC 261 was expanded, with Dr Noel Harrison being appointed as Chair. Due to COVID -19 the ISO/TC 261 2020 plenary was held online where Irish delegates were in attendance. Within ISO/TC 261 Joint Groups (JG) have been set up, under agreement between both ISO/TC 261 and ASTM F42. The Drafting of Standards is not being done in ISO WGs (where experts are nominated by their National Standards Body.), but in these JGs. There are currently 79 of these JG with experts from ISO and ATSM drafting standards.
Committee Member Login
Committee Members can login using ISOlutions Portal