Our Latest News
Find the latest updates about medical devices below.
July 2023
Extension of the MDR Transitional Period and Removal of the 'sell off' periods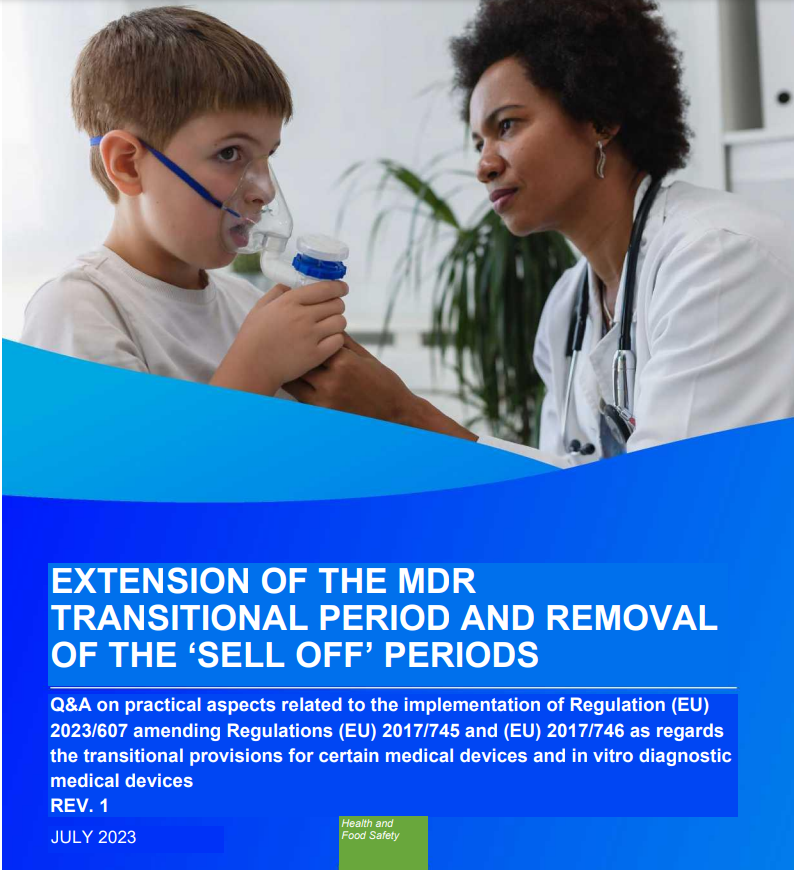 Find out more here
February 2023
NSAI has achieved designation under the in vitro Diagnostic Regulation 2017/746.
This means that NSAI is now able to provide conformity assessments under the IVDR and grant CE marked certificates to the scope documented on the NANDO database.
NSAI will be performing conformity assessment activities under IVDR 2017/746, Annex IX Chapter I and Chapter II.
The Designation represents a significant expansion in the scope of conformity assessment provided under the old IVDD. In line with this expansion, NSAI is designated to perform conformity assessment activities for all Classifications of devices: Class A, Class B, Class C and Class D.
Click 'full announcement' to view all the details.
For manufacturers wishing to engage under the IVDR, please email us at Sales.Medical@nsai.ie
Extension to MDR/IVDR
Following the positive vote on the MDR 2017/745 and IVDR 2017/746 transition extension proposal by the European Parliament on 16 February 2023, NSAI, welcomes the amendment in the interest of patient safety and the supply of medical devices.
Existing products have been given more time to become compliant to the MDR. Validity of MDD certificates can be extended until 2027 or 2028, depending on risk class. The administrative aspects are currently being developed by Team-NB to ensure there is a harmonised solution/approach by the various EU Notified Bodies.
Please note: NSAI cannot independently take action until this amendment is law, that is; once published in the Official Journal (OJ) of the European Union.
For certificates issued before 26 May 2021, the transition period to the new rules will be extended as follows:
 For Class III devices and Class IIb implantable devices: until 31 December 2027
 For Classes IIb, IIa, ls, lm, lr products: until 31 December 2028
The extension is subject to certain conditions. This means more time will only be granted for products that are safe, and for which manufacturers have already taken steps to transition to MDR. For clients transitioning with NSAI, you must submit a signed request for quotation, including the MDD products to be transitioned by 26 May 2024 at the latest, and the contract with NSAI must be signed by 26 September 2024 at the latest.
The sell-off period for existing products previously specified in MDR Art.120(4) and IVDR Art 110(4) has also been abolished, to allow product already placed on the market to be made available beyond the end date of May 2025.
NSAI welcomes the adoption of this amendment, and we look forward to the successful implementation of the regulation. However, we strongly recommend manufacturers keep progressing with their MDR transition.
April 2021
NSAI are making changes to enhance the CE marking process for our clients under the new regulations. We have gathered data on the technical documentation reviews which have been conducted under MDR 2017/745 so far. Analysis of this data has shown us that the 1st round of queries which NSAI issues to its clients is primarily focused on administrative issues. These include requests for documents which have been omitted from the initial submission, or to request that the data be submitted in a searchable format. There is also a trend regarding insufficient document details, such as signatures, all of which prevents a review from proceeding.
To read the full communication, click here.
April 2020
As a result of Covid-19 and in an effort to continue certifying medical devices and their associated management systems, remote auditing is now permissible in certain circumstances. The NSAI medical devices team have created a short webinar on "how a manufacturer can prepare for a remote audit", available here.
February 2020
NSAI is now a designated Notified Body under MDR 2017/745, and available to view on the NANDO database here.
NSAI's scope of designation under MDR 2017/745 includes:
Active implantable devices
Active non-implantable devices for imaging, monitoring and/or diagnosis
Active non-implantable therapeutic devices and general active non-implantable devices
Non-active implants and long term surgically invasive devices
Non-active non-implantable devices
Reusable surgical instruments
Devices locally dispersed in the human body or intended to undergo a chemical change in the body
Devices without an intended medical purpose as per Annex XVI of the Regulation (conditional on Common Specifications being published)
The full scope can be viewed here.
The process for MDR application and certification is:
Complete an RFQ/application
Accept quotation/contract
Schedule Product/Technical documentation Review and QMS audit activity
Technical documentation review and QMS audit activity will happen simultaneously
Certification under MDR achieved and surveillance cycle begins
An overview of NSAI's fees for conformity assessment activities under the MDR can be viewed here.
February 2019
NSAI hosted two events on the 25th and 27th of February in Dublin and Galway.
These events focused on:
Clinical requirements for the medical device regulation.
Device classification and product technical file requirements.
Quality system requirements.
Brexit implications for medical device manufacturers.
To learn more, view the recording below, or download a copy of the Powerpoint presentation
August 2018
On 5 April 2017, two new Regulations on medical devices were adopted, and they entered into force on 25 May 2017. They were:
Regulation (EU) 2017/745 of the European Parliament and of the Council of 5 April 2017 on medical devices, amending Directive 2001/83/EC, Regulation (EC) No 178/2002 and Regulation (EC) No 1223/2009 and repealing Council Directives 90/385/EEC and 93/42/EEC

Regulation (EU) 2017/746 of the European Parliament and of the Council of 5 April 2017 on in vitro diagnostic medical devices and repealing Directive 98/79/EC and Commission Decision 2010/227/EU
In light of these changes, we would like to advise medical device manufacturers of the excellent resources below, kindly put together by the European Commission:
Learn More
Europe Offices
NSAI European HQ
1 Swift Square
Northwood, Santry
Dublin 9 D09 A0E4
Ireland

T+ 353 1 807 3800
F+ 353 1 807 3878
E medical.devices@nsai.ie

NSAI Galway Office
Ballybrit Crescent
Ballybrit Business Park
Galway H91 NX52
Ireland


T+ 353 1 807 3800
E medical.devices@nsai.ie
USA Office
NSAI Inc.
20 Trafalgar Square
Suite 603
Nashua, NH 03063
USA


T+ 1 603 882 4412
F+ 1 603 882 1985
E info@nsaiinc.com