Ancora Imparo, 'I Am Still Learning' is well known for being the personal motto of Michelangelo who said it at age 87. If the brilliant 15th century Renaissance artist had lived today, he may well have referred to it as 'CPD'.
There are many definitions for Continuing Professional Development (CPD) out there, however, put simply, it is the process of tracking and documenting the skills, knowledge and experience that you gain both formally and informally as you work. CPD is a fundamental part of any career in engineering, and engineers are encouraged to take ownership of their learning and skills improvement, as well as their general development, by undertaking various activities throughout their career.
CPD can have many different dimensions, and ranges from on the job practical experiences, to reading a book or an article, attending training days or getting involved in the development of Standards. Engineers Ireland encourages its members to join National Standards Authority of Ireland (NSAI) committees and have formally recognised that members who participate in technical standards committees and related activities will have this work recognised as part of their CPD requirement.
So, if you are designing or manufacturing to a certain standard and want to gain a greater understanding as to how you can influence the future development of that standard, then taking part in a Standards committee may just be the perfect form of CPD for you.
Standards as CPD – What are the benefits?
NSAI as the National Standards Body in Ireland is your gateway to international standards development. There are many benefits of engaging in Standards Development for current new and emerging technology areas. Standards help bridge the innovation gap between research and global market impact by building customer trust and confidence in new innovative solutions. Becoming involved in early standards development enables faster mass-market adoption of new technologies, products and services.
As Engineers you are working with standards every day. You are either designing to them, manufacturing to comply with them, or testing to ensure you are compliant with them. Joining a national committee will give you the opportunity to work with your peers, the same people who developed the standards in the first place. Maybe you want to change a design constraint within the standard, or you would like to tighten a clause that you feel is too vague, then working with the national committee opens the door to make that change, all the time gaining CPD credits for the time you are involved in growing your knowledge.
Competitive Advantage
By engaging in standards development activities with leading international experts and knowledge-networks, you stay ahead of the curve in your technical area and help set the standards for new and emerging technologies, products and services.
The chart below shows the technology and product life cycle, and the level of yield for companies who shape, follow or adopt to the latest innovation or trend. The earlier a business can catch on and bring the latest and greatest to market, the greater the rewards. So while leaders and fast followers typically engage with standards committees to help the wider industry, they also do it to help themselves.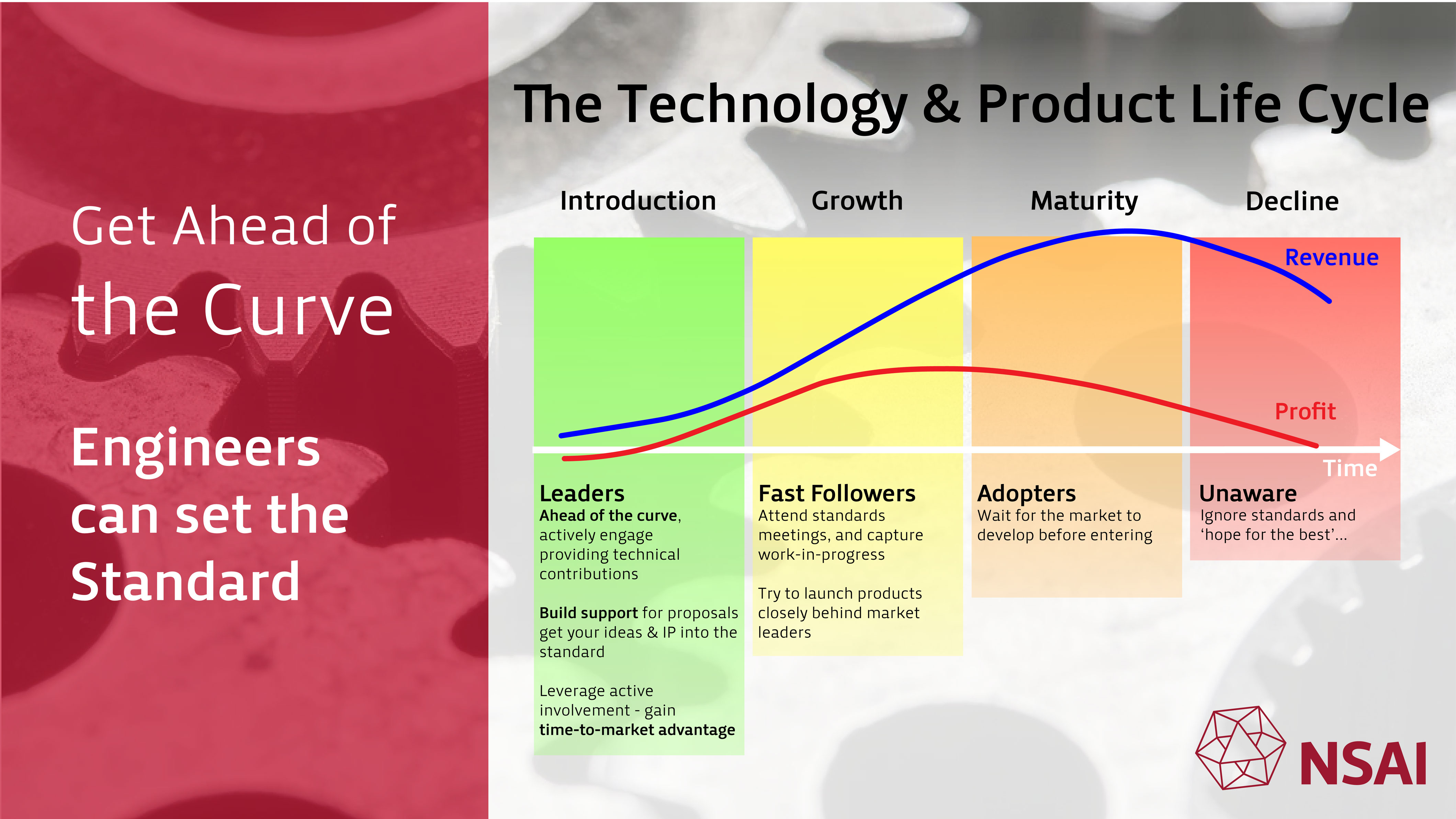 If you are working to a standard you can still add your impact by getting involved in the next revision of the standard.
Platform for Research & Innovation
Standards represent the state-of-the-art for a given technology or product area and hence provide a platform on which to build successful research and innovation projects, products and services.
Authority & Credibility
As an active expert member of the international standards development community, you increase your standing and credibility with key industrial stakeholders, customers and policy makers / funders. Add your thoughts to increase the diversity of the committees.
Interoperability & Digital Transformation
Standards provide a basis for the integration of diverse technologies into complex, innovative systems and solutions, and assist in ensuring interoperability between smart products and services – a critical role in a world undergoing digital transformation across all industries and sectors.
International Market Access
European and international standards provide access to large global markets for innovative new products and services. Standards enable the free movement of goods & services by removing technical barriers to trade.
For more information on how to get involved in Standards, click here.