Irish experts are leading the way in creating global standards, working to develop some of the 1,490 carefully-designed guidelines published by the National Standards Authority of Ireland (NSAI) last year in areas such as construction, medical devices, technology and food.
Commenting on the publication of the Annual Report, Minister for Trade, Employment, Business, EU Digital Single Market and Data Protection, Pat Breen TD said:
"The NSAI continues to play a critical role in proving assurance to consumers that the various measurement instruments they come into contact with on a daily basis are accurate. In 2017, the NSAI inspected over 14,000 instruments including taxi meters, petrol pumps and supermarket scales. It's through the NSAI that consumers can rely on and have confidence in measurement in trade.
"The NSAI also published 1,490 standards last year. As the global language of business, standards are crucial in today's fast-paced and competitive marketplace. I would encourage anyone who is keen to shape the future of an industry, service or product to get involved with NSAI's standards development committees and have their say on the evolution of their sector, both at home and abroad."
The Authority's 2017 Annual Report, published today, reveals that 1,422 people are involved in standards-making in Ireland, up 353 on 2016.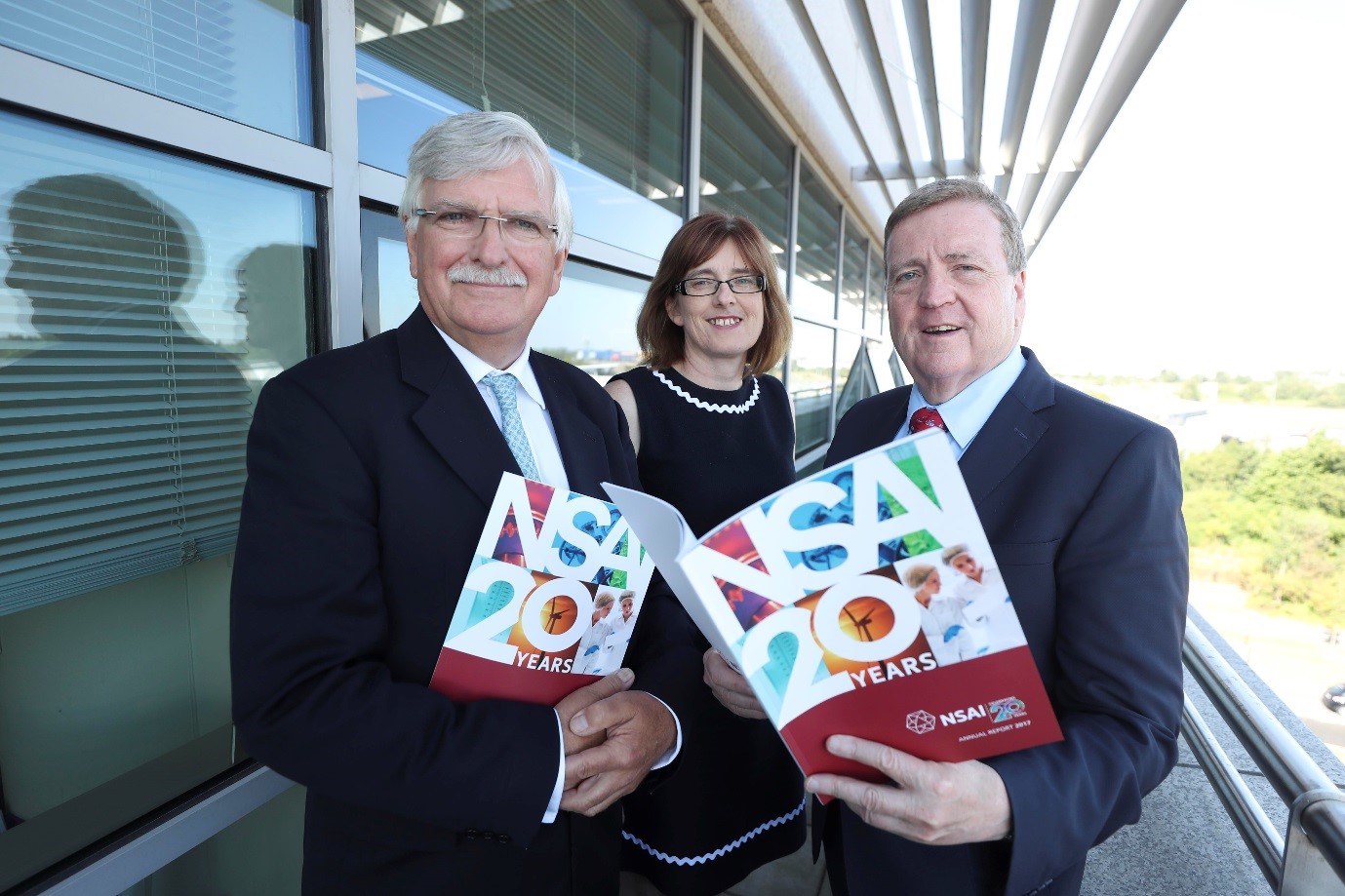 Pictured at the launch of the 2017 NSAI Annual Report are (L-R) James Kennedy, NSAI Chairman, Geraldine Larkin, NSAI Chief Executive and Minister for Trade, Employment, Business, EU Digital Single Market and Data Protection, Pat Breen TD.
#1 Medical Devices
Among them is Silvana Togneri Mac Mahon, a Post-Doctoral Researcher at Dundalk Institute of Technology (DKIT) and Lero, the Irish Software Research Centre, whose work in creating a standard to safely and securely connect medical devices, such as heart monitors and x-ray machines, to a computer network could provide benefits to patients such as reduced cost of care, reductions in adverse events and improved care through the provision of accurate and up-to-date information.
"The interoperability of medical devices and their linking to IT networks has become ubiquitous. This creates a system in which the devices have not been tested, increasing the risks to patient safety and data." said Dr Mac Mahon.
"I wanted to work with Ireland's international partners to lead development of a standard to address these risks and to help medical professionals to ensure that networked medical devices continue to be safe, effective and secure for the patients who use them," she added.
#2 Big Data
Another expert is Ray Walshe, a lecturer in DCU's School of Computing. He has worked on developing a global standard for Big Data, which allows organisations to process large volumes of data to enable better decision making.
"Standards are a fundamental pillar for the European Digital Single Market, and beyond, by helping to create an environment that facilitates trade and allows people to build products that are approved worldwide," said Mr Walshe.
#3 Electronics
A third expert whose work is captured in NSAI's 2017 Annual Report is Pat Ward, the founder of Western Automation, an R&D company headquartered in Co Galway. Through NSAI, he has contributed to the development of numerous international standards for Residual Current Devices (RCDs provide protection against electric shock), standards that directly impact his business.
"My experience made me aware that failure to participate in Standardisation work placed my company at a commercial disadvantage which could imperil the survival or commercial success of the company. By such participation we achieved over thirty years of success and global recognition in our industry." said Mr Ward.
"Engaging our competitors head on in the international standards process gave us a tremendous insight into their strengths and weaknesses, which we could exploit to our advantage," he added.
The three standards experts mentioned above are part of a 1,442-strong team which is currently involved in standards development in Ireland, covering everything from plumbing to aeroplane cabin air quality. There were 353 more people sitting on NSAI development committees in 2017 when compared with 2016, showing a strong commitment by Irish businesses to standards development. The number of people choosing to help shape the standards of the future online also increased by 15%, with 2,457 people now registered to NSAI's 'Your Standards, Your Say' web portal.
Taking all standards development activities into account, NSAI published 1,490 standards last year, bringing to 23,000 the number in NSAI's extensive collection, covering all interests, industries and sectors. 2017 saw the revision of the Reactive Pyrite standard, which is used by experts to assess buildings affected by the mineral, as well as the standard for timber post and rail roadside fencing.
"Standards enhance competitiveness, build reputations, support national regulators, and deliver growth. NSAI is a strong and respected Irish voice on the world stage, fighting every day for Irish businesses and consumers to ensure that products and services are competitive, safe and fit for purpose," said Geraldine Larkin, NSAI Chief Executive.
"Our network of standards professionals is spread right across the country engaging and assisting local businesses to innovate, compete and trade in new markets" she added.
NSAI's 2017 Annual Report also reveals that its Legal Metrology division inspected 14,763 measuring instruments used in trade last year, including 7,692 petrol and diesel pumps. Of those inspected, 270 were found to be dispensing fuel inaccurately and warnings were issued.
Of the 698 taximeters inspected for accuracy, 30 failed on first inspection while 322 supermarket scales were found to be weighing incorrectly out of the 4,580 inspected.
In addition, following an NSAI Legal Metrology inspection, a Donegal fish processing plant and a company director were fined €45,000 in total for tampering with weighing scales used to measure incoming fish catches.
With the continued strong growth in the construction sector, NSAI saw a rise in demand for its construction-related services in 2017. There were 646 construction products CE Mark audits carried out by NSAI staff, while the number of NSAI-registered insulation installers now stands at 226.
Motor vehicle approvals granted during the past year rose one per cent to 8,309. NSAI issued 5,360 national and 2,949 European automotive approvals for vehicles, their components and systems in 2017, focusing on issues such as emissions, engine power, tyres and seat belts.
NSAI's Medical Devices division also saw growth, adding 21 new customers in 2016 and issuing 15 new CE Product certificates to companies.
For further information, visit NSAI.ie, like us on Facebook and LinkedIn by searching 'NSAI', or follow us on Twitter @NSAI_Standards
NSAI Annual Report 2017 – Main Findings
NSAI published a total of 1,490 international, European and Irish standards in 2016 contributing to a library in excess of 23,000
14,763 measuring instruments used in trade inspected last year by NSAI Legal Metrology
30 taximeters tested failed first inspection and were issued warnings (698 inspected)
322 supermarket scales tested by NSAI inspectors failed first inspection (4,580 inspected)
270 liquid fuel dispensers (petrol/diesel pumps) tested failed first inspection and were issued warnings
8,309 motor vehicle approvals granted by NSAI to manufacturers
646 construction related audits were conducted in areas such as external wall insulation systems, window energy ratings, product certifications, air tightness and cavity bead insulation