The National Standards Authority of Ireland (NSAI) has launched its new strategy for 2022-2026 – Innovating to Shape a Safer, Better, and Sustainable Future.
Speaking at the launch, NSAI CEO Geraldine Larkin, reminded everyone of the key role that Standards and Certification plays in helping business and organisations in the recovery of the economy and the aid in the delivery of solutions that match the changing landscape of how business works today, where sustainability, climate action and the pace of technological innovation are to the fore.
As part of the strategic process used to develop the NSAI Strategy 2022-2026 – Innovating to Shape a Safer, Better, and Sustainable Future, feedback was sought from all key internal and external stakeholders; research was conducted to segment and understand the emerging changes in current market sectors, as well as the landscape for new, developing sectors.
NSAI CEO, Geraldine Larkin said, "Now is the time for policymakers and public and private sector organisations to realise the vital role Standards play in safeguarding a sustainable and secure future.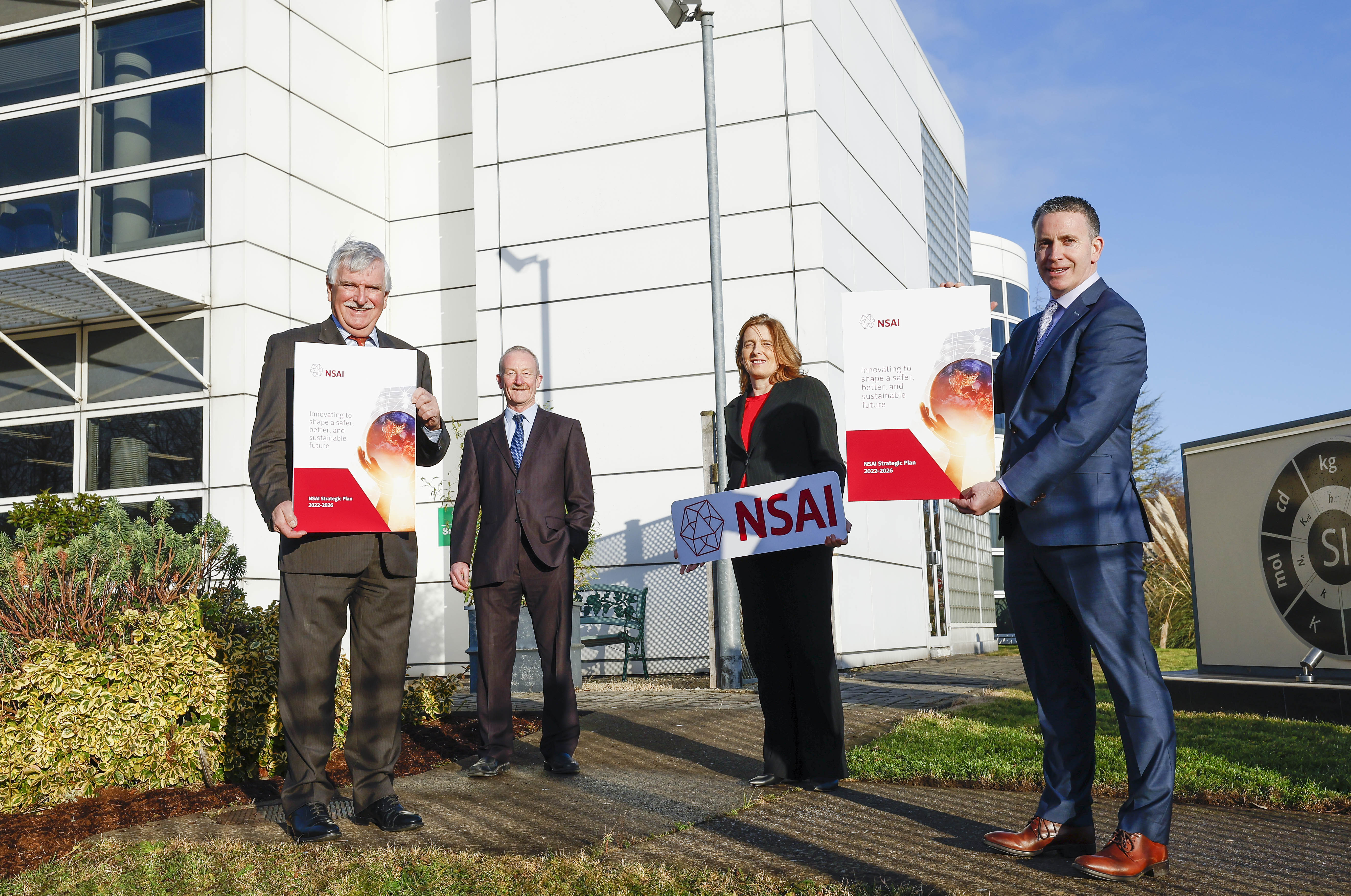 "Standards are vital to ensuring organisations can negotiate tough market conditions by putting established frameworks and best practices in place. We aim to complement and support the Government's goal of making Ireland the best place to succeed in business across Europe.
"To achieve the goals outlined in this strategy, the NSAI will work in partnership with all of its stakeholders to unlock our knowledge vaults in areas like Digital Transformation, Climate Action, MedTech, and the Built Environment.
"This Strategy will be key to increasing and improving the use of standards in fostering enterprise, and developing business resilience, efficiency, and competitiveness. We'll create new ways for businesses to access our expertise, as well as dissemination and co-creation programmes, across all the industries we serve.
"Promoting resilience through Standards gives us methodology and a scientific and evidence-based approach that will allow Ireland to hit its climate targets.
"The success of our Strategy is incumbent on continuing the hard work and professionalism displayed by dedicated NSAI Staff and Technical Committee members; I want to thank them for their enormous contribution to our organisation.
Speaking on the launch of the strategy, Minister Damien English said, "I'm excited to see the NSAI's Strategic Plan for 2022-2026, Innovating to Shape a Safer, Better, and Sustainable Future, become a reality.
"NSAI is an important organisation for Irish business, particularly for large and small companies wanting to expand their export markets, whether directly or through participation in global supply chains, where the validation given by standards and certification is so valuable."
For more on NSAI's new strategy visit our dedicated webpage here.
You can also download the full strategy below: