National Standards Authority of Ireland (NSAI) has achieved 'Auditing Organisation' recognition under the Medical Device Single Audit Program (MDSAP).
NSAI is one of just 14 certification bodies worldwide with the skills, expertise and capabilities to certify medical device manufacturers to MDSAP.
The Medical Device Single Audit Program (MDSAP) allows a single audit of a medical device manufacturer's Quality Management System which satisfies the requirements of multiple regulatory jurisdictions. Audits are conducted by Auditing Organizations (AO), such as NSAI, authorized by the participating Regulatory Authorities to audit under MDSAP requirements.
"MDSAP is a way that medical device manufacturers can be audited once for compliance with the standard and regulatory requirements of up to five different medical device markets: Australia, Brazil, Canada, Japan and the United States," said CEO of NSAI Geraldine Larkin
"This single audit approach reduces the need for duplicate quality management audits, helping device manufacturers to better manage costs and ease market access," she added.
A NSAI MDSAP Audit can also be combined with assessment for CE Marking and ISO 13485.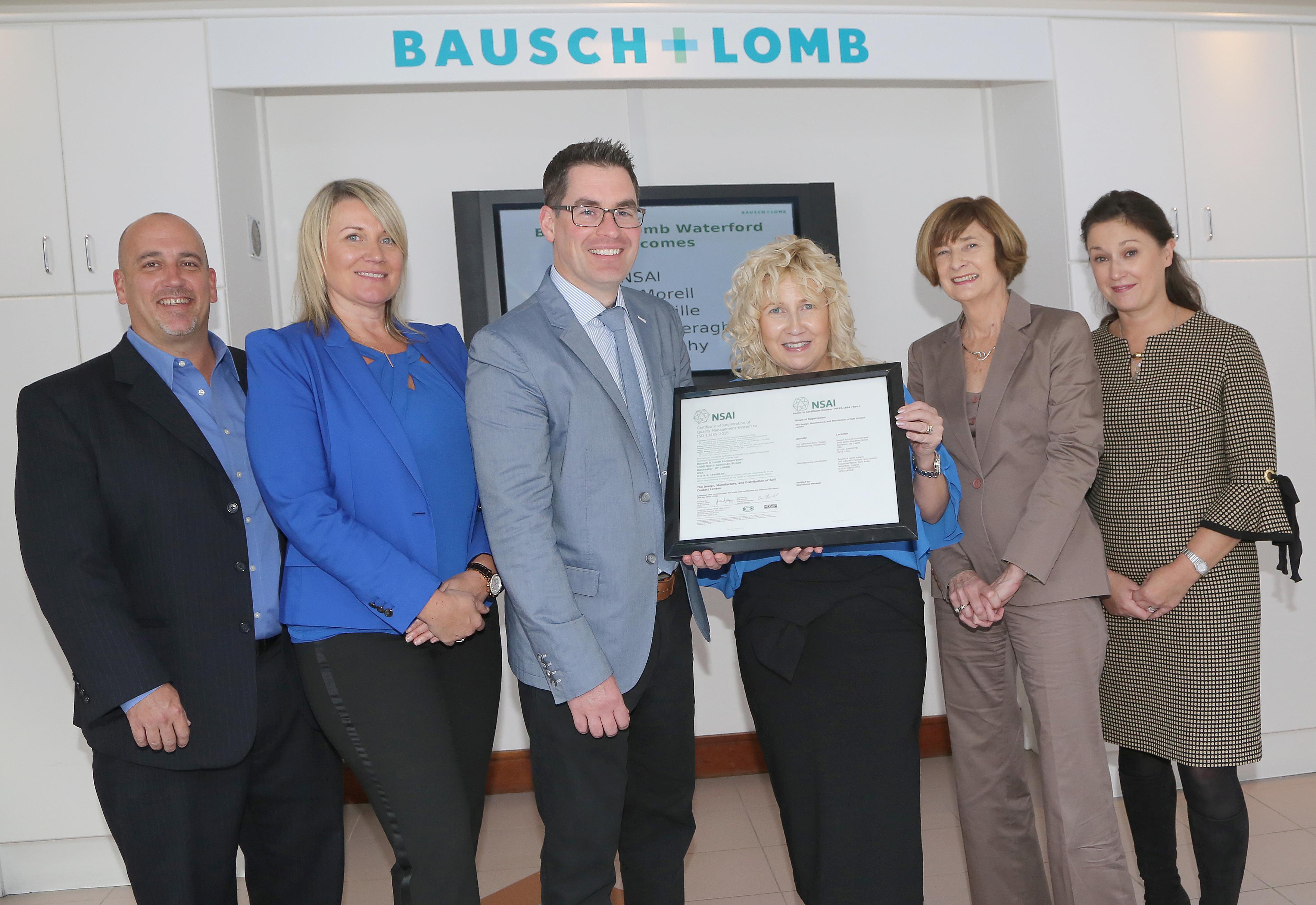 L-R: Vice President of NSAI Inc. Christopher M. Morrell, Bausch + Lomb Contact Lens MDR project lead, Melissa White, US Medical Operations Manager of NSAI Inc. Eoin Banville, Bausch + Lomb Senior Director Global Quality Operations, Contact Lens, Pamela Mackey, NSAI's EU Medical Device Operations Manager Susan Murphy, and NSAI's Head of Medical Devices, Caroline Dore Geraghty
NSAI would like to acknowledge medical device manufacturer Bausch + Lomb, who volunteered to be part of the MDSAP witness audit program, allowing NSAI to successfully complete the MDSAP requirements and achieve Recognised Auditing Organisation status.
"Bausch + Lomb achieved MDSAP certification under NSAI. The recognition process required NSAI to undergo three witness assessments by the MDSAP consortium," said Chris Morrell, Vice President of NSAI Inc.
"Witness assessments were conducted in Bausch + Lomb Rochester, New York and in Bausch + Lomb, Waterford, Ireland. Final multi-site registration to MDSAP / ISO 13485:2016 was granted last December, covering both locations. This is a significant achievement by Bausch + Lomb and its dedicated team," he added.
Pam Mackey, Bausch and Lomb's Senior Director of Global Quality Operations stated:
"Bausch + Lomb is pleased to be among the first companies to achieve this significant accreditation. It is recognition of our on-going commitment to the highest quality standards and is a reflection of all our employees' dedication to manufacturing products that meet our customer's expectations in terms of quality & service. The single audit approach is an advantage for the medical device industry as it supersedes the need for numerous individual inspections thereby reducing cost while providing a comprehensive audit programme."