Croom Concrete in County Limerick has been announced as the first Irish company to achieve the UKCA mark from NSAI Certification UK, a subsidiary of the National Standards Authority of Ireland (NSAI).
As a result, the precast concrete supplier, which employs over 90 people in Limerick, can export its precast concrete products to England, Scotland, and Wales, bearing the UKCA mark.
"Croom Concrete's achievement is a testament to their dedication to excellence and quality. We are proud to have been their partners on this journey and to have played a part in their success. This accomplishment opens doors for Croom Concrete to expand its market presence in the UK and beyond" commented Robin Byrne, Head of Office with NSAI Certification UK.
UKCA marking is a rigorous certification that ensures products entering the UK market meet the highest safety and quality standards. Achieving this certification requires companies to demonstrate compliance with a range of technical specifications and regulatory requirements, making it a significant accomplishment for Croom Concrete.
Speaking on behalf of Croom Concrete, Matt Costello, Company founder, expressed gratitude for the support provided by NSAI Certification UK and stated, "This achievement signifies a milestone in our journey as a company. We are proud to represent Irish manufacturing on an international stage and assure our UK customers that we adhere to the highest quality standards. We thank NSAI Certification UK for their guidance and support throughout this process."
This achievement also underscores the excellent working relationship between NSAI Certification UK and Irish businesses. It demonstrates the commitment of both organizations to uphold quality, safety, and compliance with international standards.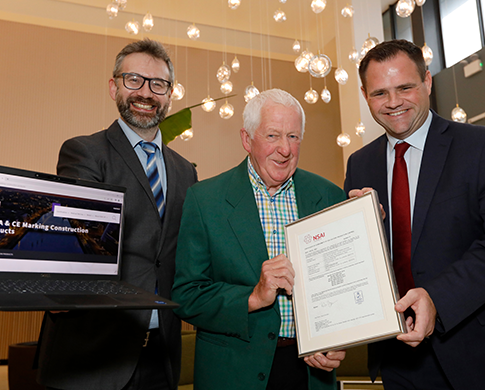 Speaking at the presentation of the UKCA marking certificate, Neale Richmond TD, Minister of State at the Department of Enterprise, Trade and Employment with special responsibility for Business, Employment and Retail said, "UKCA marking is a vital step in ensuring our businesses' access to the UK market. This certification reinforces our commitment to quality and safety, bolstering consumer trust. As we navigate changing trade dynamics, it's crucial that businesses embrace this standard, which will open doors to a wealth of opportunities. With UKCA marking, we reaffirm our dedication to fostering strong trade relationships with our UK partners and continue to thrive in the global marketplace."
To find out more about the work of NSAI Certification UK, visit www.nsai.uk