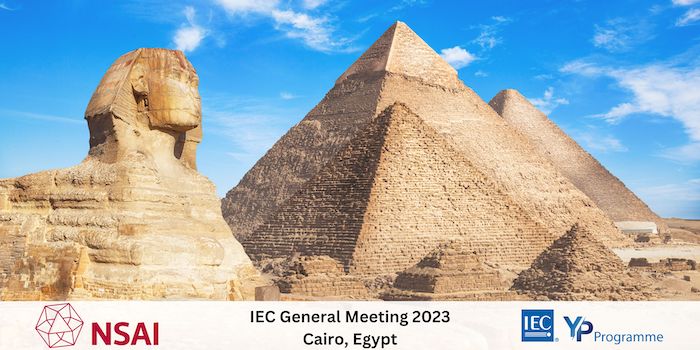 NSAI is offering you an exciting opportunity to represent Ireland at the next International Electrotechnical Commission (IEC) Young Professionals Workshop in Egypt in October!
Are you a young professional in your 20s to mid-30s using Standards in your current or previous role? This funded opportunity gives participants a chance to attend and contribute to the flagship IEC event of the year, bringing together technical and management communities from across the world. Young professionals who attend get the chance to engage with standardization activities, while also exposing them to the latest developments and best practices for electrical, electronic and ICT technologies.
The IEC is the world's leading organization for the preparation and publication of International Standards for all electrical, electronic and related technologies, bringing together the world's upcoming expert engineers, technicians and managers. The IEC is also committed to help raise awareness of the value of gender diversity with its National Committees and stakeholders. The Young Professionals program will provide you with more opportunities to shape the future of international standardization and conformity assessment in the field of electrotechnology. Former attendees have described the experience as "phenomenal" and "once in a lifetime" - you can hear more from them here.
What Will I Receive?
• Return flights from Dublin to Egypt
• Accommodation
• Public transport and meal allowance.
How Can I Apply?
Please email a copy of your CV and the completed application form to amanda-jane.gainford@nsai.ie by midnight, June 18th 2023. Successful applicants will be called to to an online interview process in July. Chosen nominees will be notified by mid-July.
Would you like to hear more from former Irish representatives on what's involved? Register today for a webinar to hear from past representatives on June 8th at 4pm by emailing amanda-jane.gainford@nsai.ie.
Join in the conversation online using #morethanstandard across social media!