Housing for All: Collaborate to Innovate
The Department of Enterprise, Trade and Employment recently hosted its first construction industry stakeholder event of 2023 about new developments in the construction innovation ecosystem.
The event took place in Tangent, Trinity College Dublin and NSAI's Head of Sustainability and Built Environment, Seán Balfe, was invited to speak about construction product certification.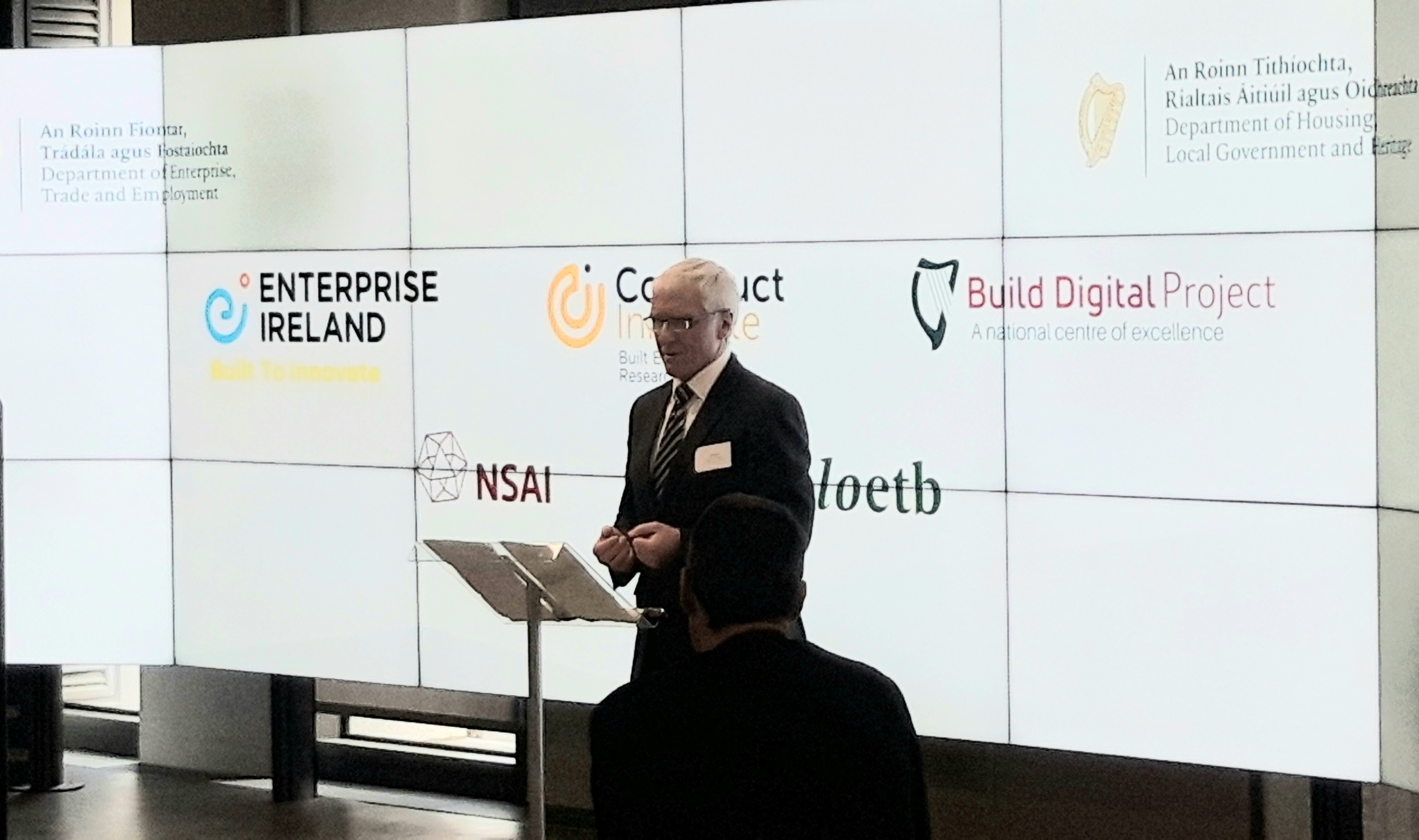 NSAI's Seán Balfe speaking at a Housing for All industry stakeholder event in February 2023.
Opening the event, which took place on February 22nd, Minister for Enterprise, Trade and Employment, Simon Coveney TD, said: "We all know that solving the housing crisis is a collective effort to speed up delivery times. Government is committed to working with the construction sector to embrace innovation and boost productivity in house building, to ensure it delivers the Government's ambition in Housing for All."
The event was focused on identifying ways to drive innovation and boost productivity in residential construction, including through the adoption of modern methods of construction (MMC).
The event also featured speakers from the Department of Enterprise, Trade and Employment, the Department of Housing, Heritage and Local Government, Construct Innovate, Build Digital, the National Construction Training Centre, Enterprise Ireland and Social Housing (DHHLG).
Construction Product Certification Emphasising how NSAI is supporting the move towards modern methods of construction under the Housing for All plan, Balfe said: "Buildings and infrastructure are essential for our daily lives, and we depend on them to be safe, durable, and reliable. This is where construction product certification comes in."
Construction product certification is a process that verifies the performance and quality of construction products such as materials, components, and systems. It has many benefits, such as:
• It enhances safety
• It improves quality
• It promotes sustainability
• It enhances competitiveness
• It improves regulation Speaking to construction industry stakeholders
Balfe added that product certification was an essential tool for ensuring the safety, quality, sustainability, competitiveness, and regulation of construction products. He said: "It benefits all stakeholders, including manufacturers, users, regulators, and society as a whole. By choosing certified products, we can build a better, safer and sustainable world for ourselves and future generations. Irish Agrement certification of MMC – modern methods of construction - can and will bring confidence to the market in adopting and using these systems."
For further information, click 'product certification'