The National Standards Authority of Ireland (NSAI) is urging DIY enthusiasts and the green-fingered to pay attention to safety standards and not to cut their summer short by falling victim to a nasty injury, or worse.
The warning comes as figures from the pan-European safety promotion association, EuroSafe, show that 124,000 Emergency Department admissions here every year are due to home or leisure-related incidents. Slips, trips and falls are the most common domestic incidents, with men tending to be more likely to be injured than women.
"Summer is typically the busiest time of year for DIY, when people decide to take advantage of the good weather to make home improvements or do some work in the garden," said Geraldine Larkin.
"If you're thinking of doing some DIY or gardening while the weather is fine, please take notice of the important safety standards that should govern the equipment you use," she added.
"For example, all personal protective equipment, such as safety goggles, and garden power tools like lawnmowers, should be CE-Marked, which signifies that they have been assessed to meet the minimum safety, health, and environmental protection requirements," said Ms Larkin.
The NSAI is advising renovators and gardeners alike that taking basic safety precautions can help prevent horrific injuries – or worse – from happening and potentially stop people from experiencing a debilitating and distressing injury. As with all major home improvement projects, people should only tackle tasks that they feel safe or experienced enough to handle.
NSAI's Top 5 Summer Safety Tips for Home Improvement:
Dress for safety: wear personal protective equipment (PPE) including safety goggles, gloves and dust masks, where necessary. Only buy PPE which display a genuine CE Mark, either on the box or the item itself. This signifies that the PPE satisfies certain basic health and safety requirements. As an added bonus, safety gloves help you get a firmer grip of tools and equipment.
Ensure the ladder is level: Ladders are one of the main causes of DIY incidents, accounting for up to two deaths a year and approximately 220 injuries[i], so always ensure that it is placed on a flat, firm surface before you climb. It is recommended that people buy ladders that meet the I.S. EN 131 standard, which addresses their stability and durability. Finally, when using a ladder, don't lean out one side, keep your body between the rails and never stand on the topmost rungs.
Read the instructions: when using power tools, lawnmowers and hedge clippers, be sure to read the manufacturer's instructions and follow all precautions stated in the manual. Always unplug the tool before cleaning or adjusting it. Always make sure it is equipped with proper safety guards and remember that all power tools should be CE Marked.
Cover up: Long sleeves are useful as protection against UV rays and flying debris. Always ensure that they are well-fitted and tight to prevent entanglement with branches and power equipment. If you're out in the sun, wear sun cream with at least a four-star UVA rating (see below).
Clear the way: Keep pets and children well out of the way when you are gardening, or using electrical equipment in the garden. Do not handle electrical equipment if you have drunk alcohol or are drowsy from taking medication.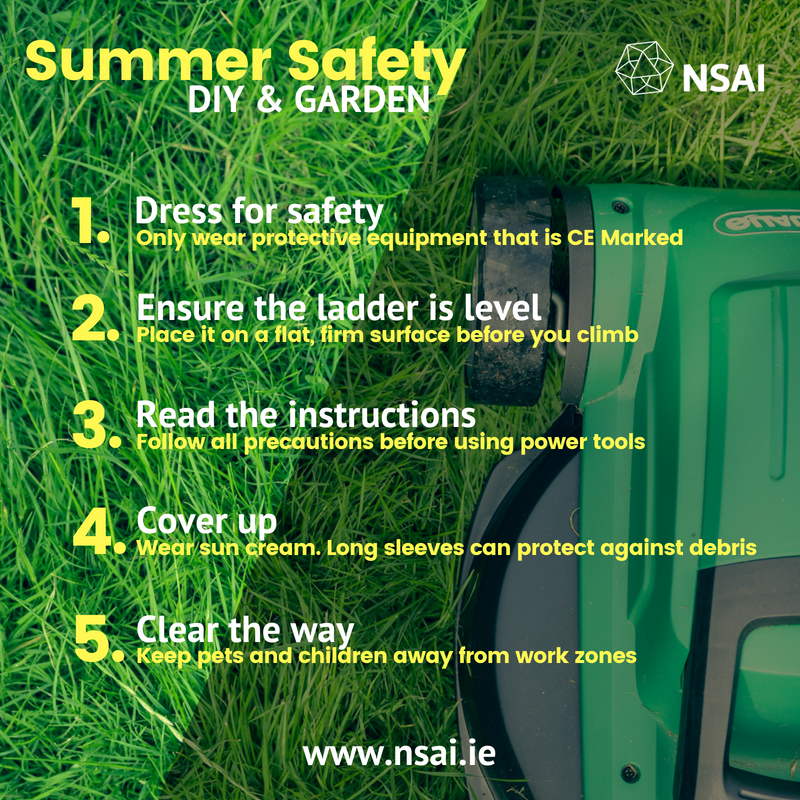 ---
[i] Source: Health and Safety Authority