The European Union Ecolabel Award Scheme
You can prove your product is environmentally friendly
Established in 1992, the EU Ecolabel is a third party certified Type I (ISO 14024) environmental labelling scheme aimed to promote products and services which have a reduced environmental impact thus helping European consumers distinguish more environmentally friendly products.
Recognised across Europe, the EU Ecolabel is a label of environmental excellence that is awarded to products and services meeting high environmental standards throughout their life-cycle: from raw material extraction, to production, distribution and disposal.
There are currently twenty-nine different product groups covering a wide range of categories, from rinse-off cosmetics to cleaning products, from home and garden to clothing and paper products, and from household appliances to tourist accommodation services.
As of September 2018, 2167 licences have been awarded for 72,227 of products and services available on the market. The following two charts show the evolution of EU Ecolabel licences and products/services since the establishment of the EU Ecolabel. Updates are performed on these graphs every six months in March and September.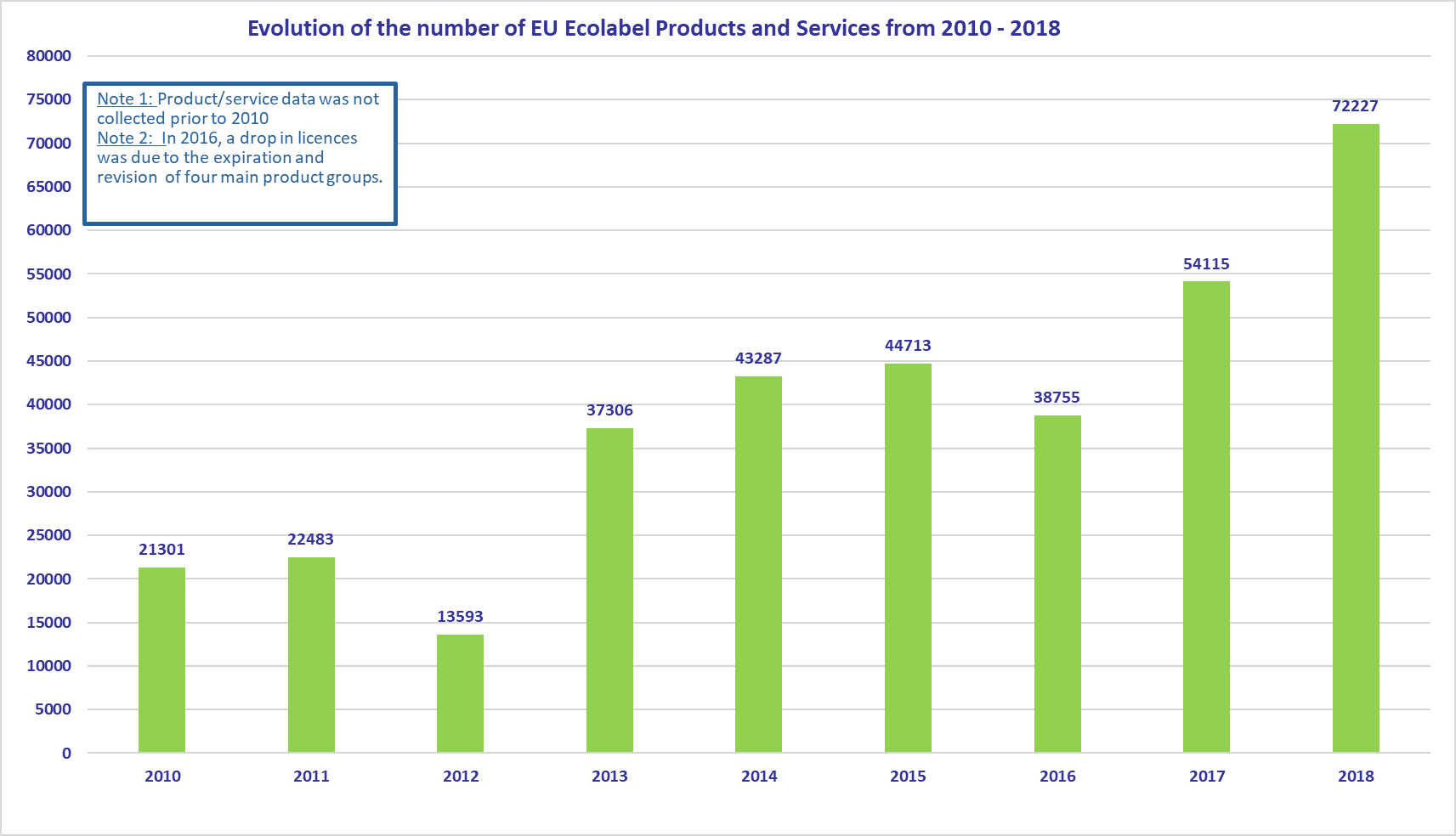 Buying Green!
Green purchasing is also about setting an example and influencing the market place. By promoting green procurement, public authorities can provide industry with real incentives for developing green technologies.
In some product, works and service sectors, the impact can be particularly signifi cant, as public purchasers command a large share of the market (in computers, energy-efficient buildings, public transport, and so on).
Download A handbook on environmental public procurement published by the European Commission.
EU Ecolabel Logo

While the logo may be simple, the environmental criteria behind it are tough, and only the very
best products, which are kindest to the environment, are entitled to carry the EU Ecolabel.

What is more, this is a label that consumers can genuinely trust.
The criteria are agreed at European level, following wide consultation with experts, and the label itself is only awarded after verification that the product meets these high environmental and performance standards.

The EU Ecolabel is a rapidly growing brand. Many producers wanting to sell their products across Europe have realised the benefits that the European Ecolabel brings. Products bearing the Flower logo can be marketed throughout the European Union and the EEA countries (Norway, Iceland and Liechtenstein).

The voluntary nature of the scheme means that it does not create barriers to trade. On the contrary - many producers find that it gives them a competitive advantage.

Ecolabel criteria are not based on one single factor, but on studies which analyse the impact of the product or service on the environment throughout its life-cycle, starting from raw material extraction in the pre-production stage, through to production, distribution and disposal.

The flower logo helps manufacturers, retailers and service providers gain recognition for good standards, while helping purchasers to make reliable choices.

The EU Ecolabel is part of a broader action plan on Sustainable Consumption and Production and Sustainable Industrial Policy adopted by the Commission on 16 July 2008.

A biannual News Alert is published and available on the EU Ecolabel website, alternatively you can subscribe online to have it sent to you direct.
Established product groups are:
(always consult www.ecolabel.eu product groups and criteria for the most up to date listing)
Personal Care Products

Rinse off cosmetic products
Absorbent Hygiene products


Cleaning Up

Hard surface cleaning products
Detergents for dishwashers
Industrial and Institutional Automatic Dishwasher detergents
Hand dishwashing detergents
Laundry detergents
Industrial and Institutional laundry detergents


Clothing and Textiles
Do-It-Yourself
Electronic Equipment

Imaging equipment
Personal, notebook and tablet computers
Televisions


Coverings

Wood, cork, bamboo-based floor coverings
Hard coverings


Furniture and Bed Mattresses
Gardening

Growing media, soil improvers and mulch


Household Appliances

Heat pumps
Water-based heaters


Lubricants
Other household items

Sanitary tapware
Flushing toilets and urinals


Paper Products

Converted paper
Newsprint paper
Printed paper
Copying and graphic paper
Tissue paper


Holiday Accommodation

Tourist accommodation services
For further information, criteria for each product category, application procedures, application forms etc. please consult the EU Ecolabel website.
When you are ready to make an application please contact:
Fergal O'Byrne
Operations Manager
NSAI
1 Swift Square, Northwood,
Santry, Dublin 9
T. 01 807 3962
E. Fergal O'Byrne
Jennifer Casey
Certification
NSAI
1 Swift Square, Northwood,
Santry, Dublin 9
T. 01 807 3817
E. Jennifer Casey