As primary schools close, the National Standards Authority of Ireland (NSAI) is urging the country's holidaymakers, adventurers and staycationers to be standards-savvy this summer.
NSAI has issued six "Summer Tips" to guide consumers through another summer of living with COVID-19. While sea safety, skin protection and safety standards remain as important as ever, the set of recommendations also encourages the use of products and services that will help minimise the spread of coronavirus.
"Last summer was like no other," said Enda McDonnell, Director of Standards and Metrology at NSAI. "In addition to keeping ourselves and our families safe while vacationing, we had the added responsibility of protecting one other from COVID-19."
"This summer, despite the easing of restrictions and the roll out of the vaccination programme, we continue to have that same duty of care towards the vulnerable members of our communities. The advice that we're sharing will hopefully give individuals some additional tips and tricks to make their holidays safe and stress-free."
The "Summer Tips" issued by NSAI ranged from checking your kids' swimwear for Standards to looking for the COVID-19 Safety Charter when visiting restaurants, hotels and tourist attractions: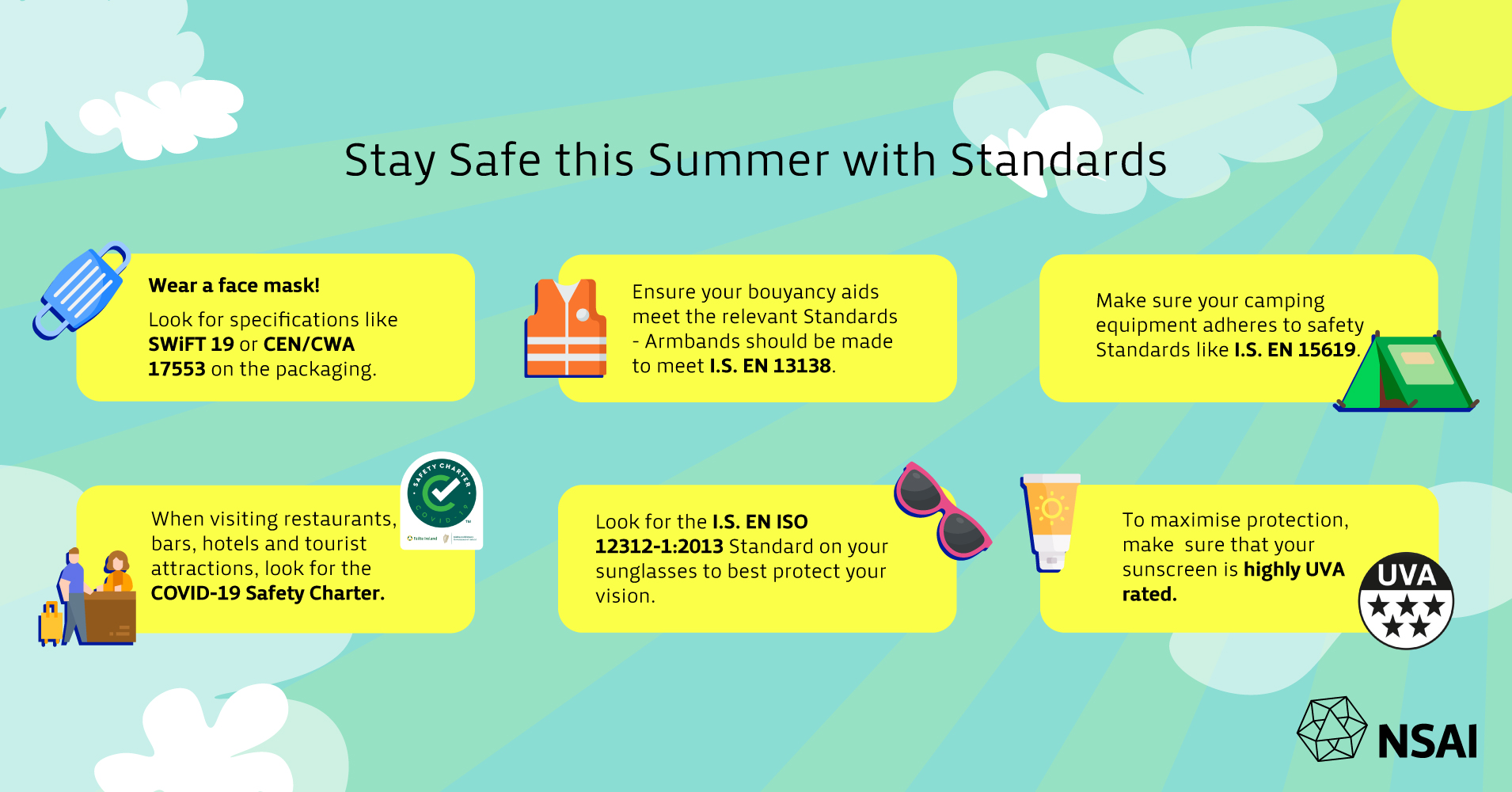 1. Protect your Vision
Believe it or not, there is a darker side to sunglasses. Sunglasses lacking important quality markings may not fully protect your eyes from harmful UV (Ultra Violet) rays. The standard for sunglasses, I.S. EN ISO 12312-1:2013, is here to make sure that manufacturers are creating eyewear that is safe and sun-proof, so look for this Standard on the packaging when buying your next pair of shades.

2. Look for highly UVA rated sunscreen
According to the Irish Cancer Society over 12,000 people are diagnosed with skin cancer in Ireland every year. Sunscreen is a safety essential for anyone spending time outside – but is your chosen product providing the best defence? Sun protection cosmetics are required to shield wearers from both UVA and UVB sun rays, but not all products are created equally: Each has a star rating which will indicate a different level of protection from deadly UVA rays.
The international standard for sunscreen testing, ISO 24443 helps cosmetics laboratories and manufacturers across the globe to determine a product's UVA star rating, which is placed on its packaging. The higher the rating, the greater the protection.

3. Look for the COVID-19 Safety Charter
Many of Ireland's hotels, restaurants, bars and tourist attractions have reopened – but as we are continually reminded, the COVID-19 pandemic is not over yet.
To safeguard against the spread of the virus, Fáilte Ireland has created guidelines to allow the tourism and hospitality sector to continue operations in a safe way. These guidelines reflect the latest in Irish public health advice to protect the industry's employees and patrons.
Additionally, Fáilte's COVID-19 Safety Charter allows diners, guests, and tourists to have confidence that their chosen venue is operating closely to those guidelines.
When planning your staycation, day trip or meal out in the summer months ahead, consult Fáilte Ireland's directory of businesses which are compliant with the COVID-19 Safety Charter, or look for the Charter's sticker around the premises.

4. Be Standards-Smart with Face Masks
Wearing face coverings has been required on transport, in shops and in other public indoor spaces since last summer as one of several important health guidelines to prevent the spread of coronavirus.
Although 'keys, wallet, phone, mask' has now become a mantra for many of us when leaving the house, we still may not be familiar with the different kinds of masks available on the market. Broadly speaking, there are three types of masks which have been designed in line with various standards to fulfil different purposes:
Surgical face masks are designed to be used in a clinical setting and are required to meet standards for medical devices.
PPE (Personal Protective Equipment) face masks are made to protect the wearer from hazardous substances, and strict standards also outline the requirements for these masks.
Barrier masks are for day-to-day use to reduce the risk of infection in the community. These masks also have Standards like SWiFT 19, the Irish specification, or CEN/CWA 17553, a European Workshop Agreement – but they are voluntary Standards. This means that barrier masks are not required to be made to these Standards by law, but a mask created to the Standard will ensure that it meets high criteria for quality, safety, and accessibility, to name a few.
When shopping for your next barrier mask, looking for mention of SWiFT 19 or CEN/CWA 17553 on the packaging could give you more assurance in your choice.

5. Check arm bands and life jackets for Standards
Heading for a dip with the kids? Always make sure that their swimming gear meets the relevant standards and displays the CE mark.
I.S. EN 13138 is an Irish standard for the rigorous testing of wearable buoyancy aids like armbands. It ensures that such products are safe and fit for purpose.
If you plan to spend some time out on the water, always wear a life jacket that meets the ISO 12402 series of standards. The EU has standardized the classifications for lifejackets and buoyancy aids into four classes: 50N, 100N, 150N and 275N. This helps water sports and boating enthusiasts enormously by providing a clear indication of the most suitable type of lifejacket for a particular activity.

6. Look for CE mark and Standards on camping equipment
If you are planning your next camping adventure, look out for the CE marking and standards on tents and camping equipment before you buy. I.S. EN 15619 and I.S. EN 13782 are both tent safety standards that ensure the design, structure and fabric used in your tent is reliable, secure and flame retardant to avoid a dangerous situation.
"The products we encounter this summer, and the services we use, will all have Irish and international standards that are relevant to them," continued Mr. McDonnell. "Therefore, I would encourage people to pay particular attention to the products they buy, look out for standards logos and symbols and don't be afraid to ask questions,"
"Of course you can also check out the NSAI website, NSAI.ie, or call our offices for information on standards," he added.
About NSAI
NSAI (National Standards Authority of Ireland) is Ireland's official standards body. It is responsible for standardization, conformity assessment and measurement. Where a standard already exists, NSAI works with organisations and businesses to help them apply it. Where a standard may be needed, NSAI will work with relevant parties at national or international level to create and develop the appropriate standard. NSAI improves the performance of organisations and protects consumers through the setting of standards and issuing of certification in the quality and safety of goods and services.
For media enquiries, contact Brónagh Kelly, Senior PR Account Executive: bronagh.kelly@nsai.ie