NSAI will co-host a joint webinar with PEERs Project titled, 'Enhancing CBRN-E preparedness and response capabilities through standardisation', on the 12th of December 2023.
The aim of the webinar is to present the work that is ongoing in the area of European CBRN-E research and standardisation in relation to citizen and societal security.
Register your interest here!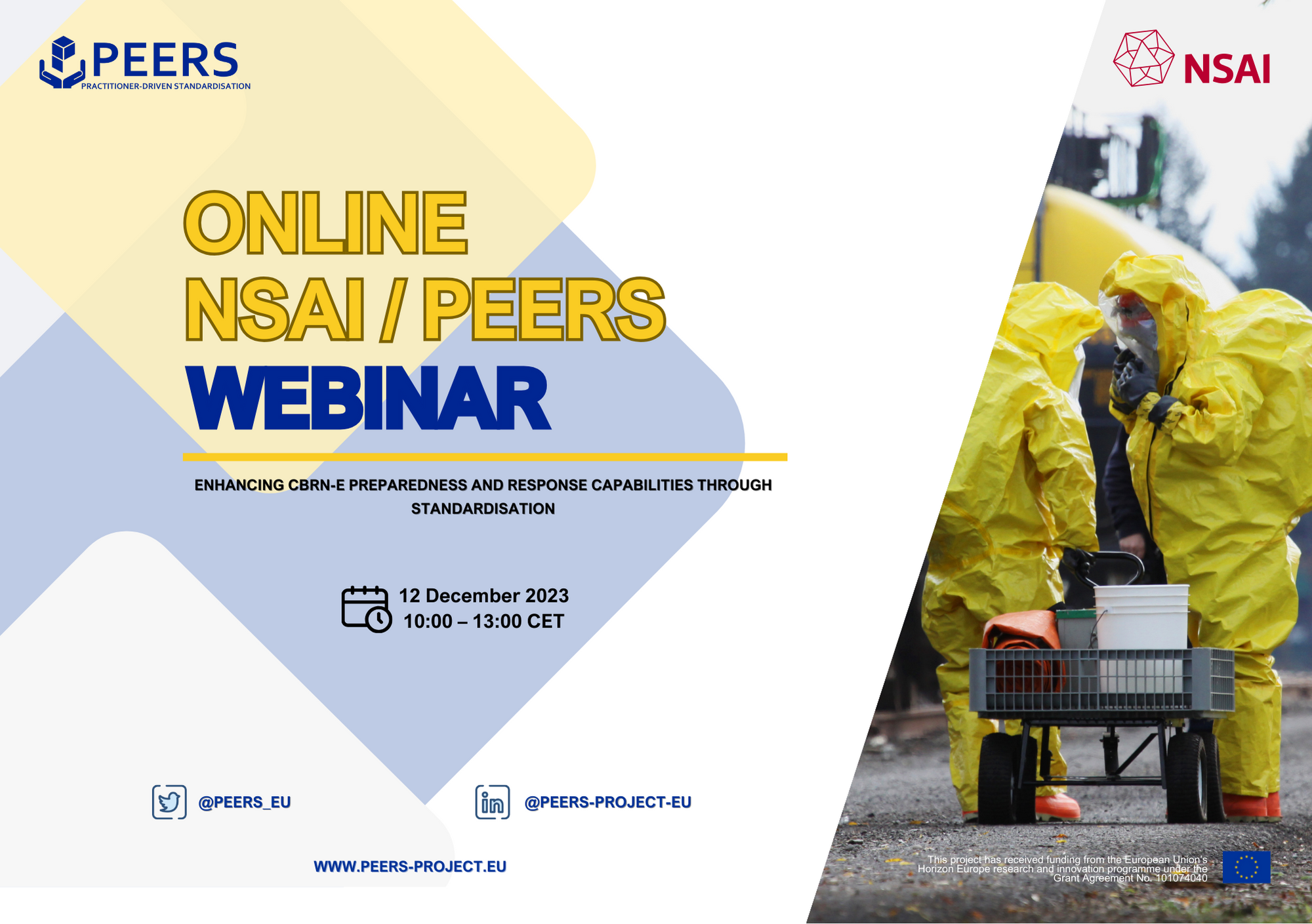 Running from 10am to 1pm (CET), the agenda is as follows:
10:00 – 10:20: Opening, welcome and standards introduction
Noleen Campbell, NSAI

- Noleen is an engineer whose experience covers a broad spectrum of industries including Wind Energy, Telecoms, Construction, and ICT. In NSAI, she covers both the ICT and Electrotechnical standards areas within the Innovation, Policy & Business Development unit.
10:20 – 11:00: CBRN-E Better Practices and Standardisation – The PEERS Project
Tom Flynn, TFC -

Tom Flynn is the Innovation and Business Development Manager of TFC Research and Innovation Limited and heads up the Better Practice Guide Initiative, which is for pre-normative standardisation. He is an active member of CEN TC391 and a regular contributor to the CEN Sector Security Forum. Tom has vast experience working for both multi-national organisations and SMEs across several domains.

Lukasz Porwol, University of Galway

- Luke Porwol is the E-Gov Unit Leader and a Research Fellow at the Insight SFI Research Centre for Data Analytics, University of Galway, Ireland. Lukasz coordinates the technical ecosystem development PEERS project, working in close contact with TFC Research and Innovation Limited through the design and development stages.
11:00 – 11:30: European Standardisation: What is going on and known issues
Patricia Compard, French Home Office

- Patricia Compard is a 32 years experienced Police Commissioner from the French Ministry of Interior. She worked for a long time in the intelligence business for the French Government and for NATO. Then, she was also responsible of the IT Governance of French National Security Forces.
11:30 – 11:45: Tea/Coffee Break
11:45 – 12:15: An Emergency EU Standard: PPE Safety and Security Management
Lukáš Moravec, Czech National Standardisation Body

- Lukáš is a Project Manager in R&D Institute for SPA & Balneology in Karlovy Vary, where he is responsible for the management of the Strategic Project "Center of R&D for Medical SPA", which will be funded by the EU Just Transition Fund. Lukáš is also working as a security advisor for Faculty Hospital in Prague and is a member of the PEERS project as part of the Czech National Standardisation Body.
12:15 – 12:55: Round Table Discussion – Based on CBRN-E and PEERS Project
Moderator: Stephen Purcell, KPMG-FA –

Stephen Purcell is Vicechair of an Interest Group on Citizen and Societal Security with the National Standards Authority of Ireland, and past Council/Board member of the Irish Planning Institute. Stephen has coordinated multi-disciplinary pan-European consortia, and managed strategies, feasibility studies and successful funding applications with a combined total of over €50 million.
12:55 – 13:00: Closure