CE Marking
The CE marking is applied to a measuring instrument by a manufacturer to show that the instrument complies with all legal requirements. Additionally, non-automatic weighing instruments are required to be marked with a green M. Other measuring instruments covered by the Measuring Instruments Directive (MID) must be marked with M in a box. To find out more about these directives go to About the Non-Automatic Weighing Instruments Directive or the About the Measuring Instruments Directive
Official Marks
Official marks in the form of tamper-evident stickers have been introduced to show that a measuring instrument has been verified. These stickers are placed on the measuring instrument by the Authorized Verifier, on behalf of the Legal Metrology, NSAI, and will be inspected from time to time by Legal Metrology inspectors.

The stickers are made of tamper-evident material and once removed cannot be put back together. Any interference or removal of a sticker will void an existing verification. Because of this a trader should ensure that no one except a person who legitimately must break a seal removes or breaks any sticker. In any situation where the stickers are removed or interfered with the measuring instrument must be verified again.
Verification Mark
This is placed on the instrument to show that it has passed verification.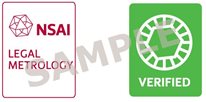 Security Mark
This is placed over any access point of the instrument that needs to be protected from interference.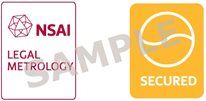 Inspection in use
If when inspected in use your measuring instrument is found by a Legal Metrology inspector not to comply with legal requirements one or other of the following actions will occur.
Warning
Where the infringement is not significant the instrument will be the subject of a warning notice issued by the inspector. In this case you must have the instrument brought fully into compliance within the time delay given on the notice, during which time it can be used for trade purposes.
Taking out of service
Where the infringement is significant a sticker will be placed on the instrument with the message 'NOT TO BE USED FOR TRADE' and the instrument must be immediately taken out of use for trade purposes.


An instrument found in use without the proper security and verification marks or with the 'NOT TO BE USED FOR TRADE' sticker is liable to lead to prosecution of the operator and/or owner.